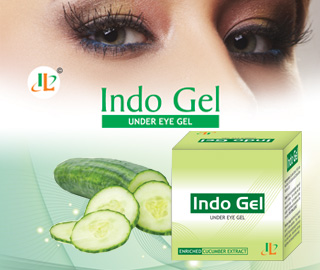 Directions for Use
Gently massage Under Eye Gel into the delicate area beneath the eyes after thorough cleansing. Use twice daily.
Suitable for all skin types.
Indo Gel
Product Code : IG
---
202.00

WHAT IT DOES
Indosys Life Under Eye Gel contains a proven and safe blend of herbs specially created to care for the delicate area around the eyes:
It reduces the appearance of dark circles and protects the sensitive area under the eyes from sunlight. It detoxifies and moisturizes the under eye area and smoothens wrinkles and fine lines. Its regular usage helps prevent new wrinkle formation.
KEY INGREDIENTS
CUCUMBER EXTRACT the hard skin of cucumber is an excellent source of natural silica which contributes to the strength of our body's connective tissue which include intracellular cement, muscles, tendons and ligaments.
ALOE VERA EXTRACT contains vitamins- A,B1B2, B6, B1 2,C & E contains anti-inflammtory & anti-microbial agent moisturizing & soothing properties.
GLYCOLIC ACID it is a non-toxic single chain molecule in a category called alpha hydroxy acids. Glycolic acid prevents dead cells from clumping together also helps mature skin by removing dead cells. skin texture is restored to healthy, smooth and soft.
GREEN TEA EXTRACT comprises of anti-oxidant properties.